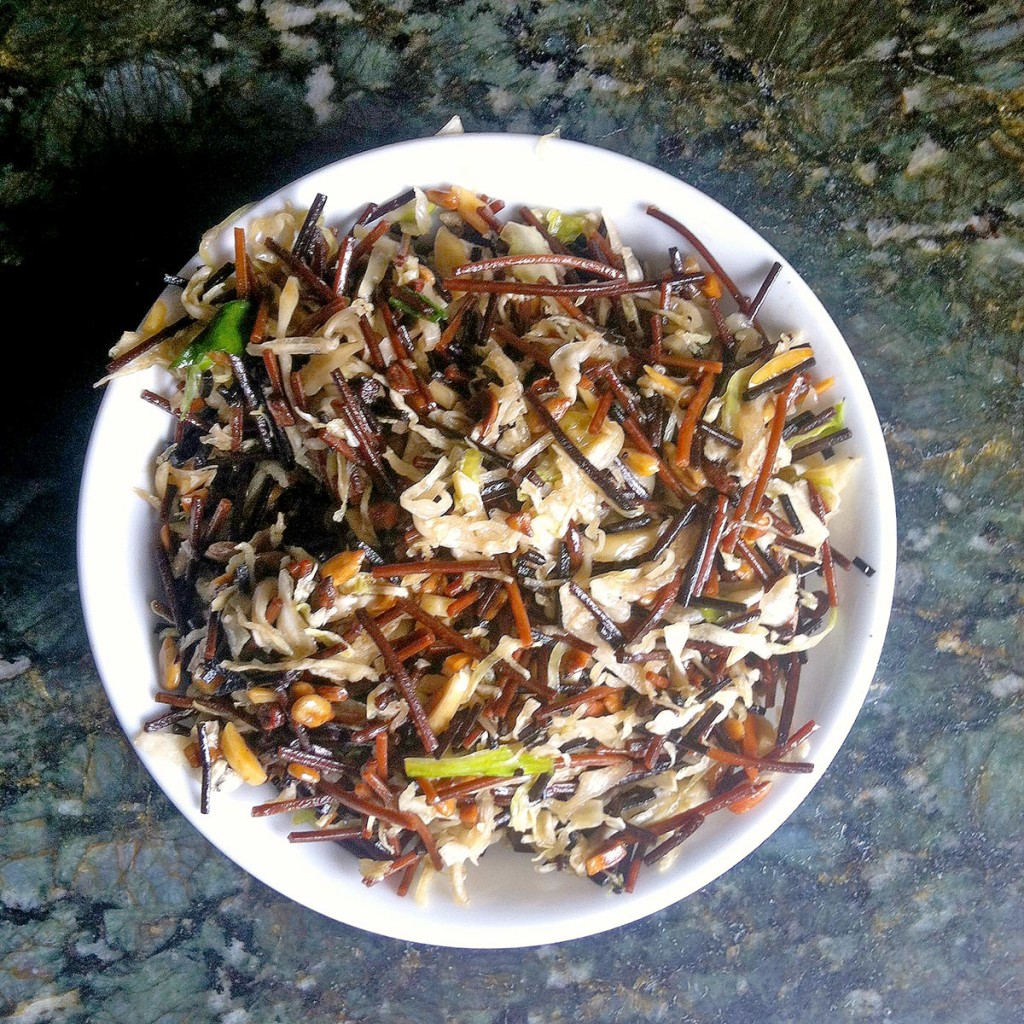 Growing tired of my own cooking, I've been searching for new – preferably healthy – dishes.  I recalled a salad that my sister, Kathy, made a few years ago and asked for the recipe.  She said it was easy so I decided to try my hand at "Ramen Noodle Salad".
Finding Ramen Noodles at the grocery store was much more difficult than I thought.  In fact, I was tempted to buy Ramen Noodle soup and just use the noodles in my salad.  But no, that wouldn't do – I could imagine the teasing.  Besides, those soup noodles were probably favored with chicken or something.  I continued my search for the real thing.  Suddenly, there in front of me, by the spaghetti, were packs of Ramen Noodles!  Not ordinary noodles either; these were organic, whole grain noodles even though they looked like very thin spaghetti to me.  I double checked the package and read, again, Ramen Noodles — Check. The rest of the ingredients were easy to find although I had to substitute sunflower seeds for sesame seeds.  Time to make the salad.
Kathy had said to break up the noodles into small pieces so I worked them over with the rolling pin to get little "sticks" of noodles.  The next step was to brown the noodles in butter. I sensed the beginning of problems when I dumped the noodle sticks into the hot frying pan.  For one thing, the pan was too small but I didn't want to get another one dirty.  Besides, the noodle sticks on the bottom were "browning" a bit quickly so I had to stand there and stir, stir and stir.  Kathy hadn't mentioned that but she probably used a larger frying pan. In spite of my best efforts, the noodle sticks were over cooked (OK, burnt).
The rest of the ingredients (shredded cabbage, onions, oil, vinegar, etc.) were combined while waiting for the noodle sticks to cool.  At last, I combined everything and took a big bite.  Not good – tasted like burnt fried spaghetti!
Obviously something was wrong with my technique so I searched YouTube for the secret method.  Although I didn't find anything on YouTube, I finally realized that I was making a slaw instead of a salad and that I'd put too much emphasis on the "Ramen Noodles".  To my surprise, I also realized that I was supposed to use Ramen Noodle soup!  Also, many recipes do not call for any cooking at all – the crushed noodles are simply added to the slaw.  Other recipes call for lightly toasting the noodles, almonds and sesame seeds in the oven.
Now it's back to the grocery store for real Ramen Noodles and another try but this time NO COOKING!