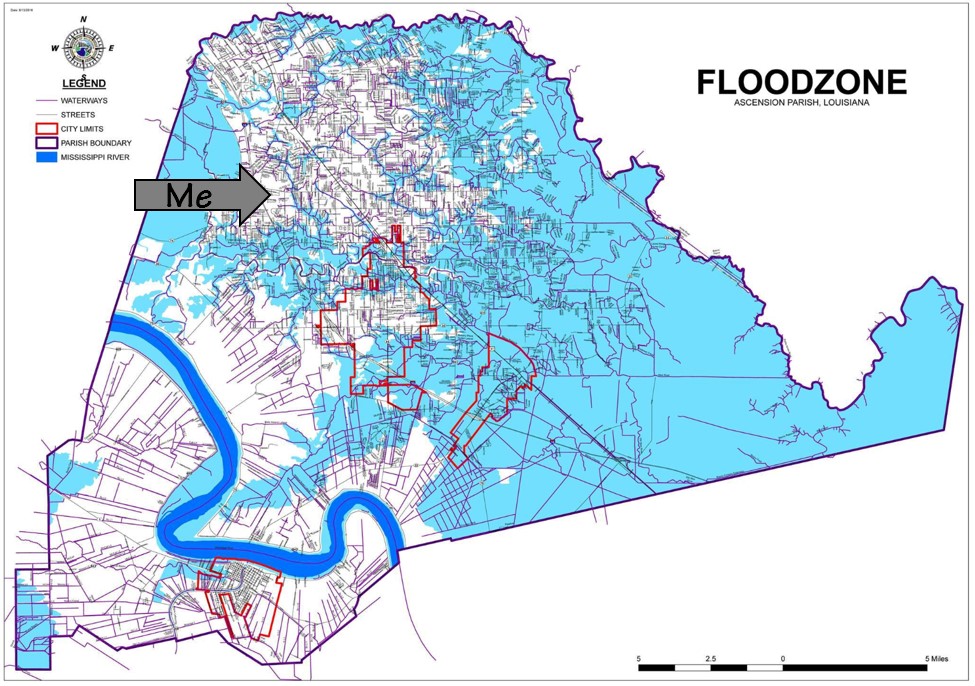 http://www.thecreole.com/wp-content/uploads/2016/08/apfloodzone.pdf
First of all, my family and I are OK; in fact, relatively unaffected.  We didn't even lose power or cable/internet service.  ATT Wireless was out of service for about a day but our land line was working.  We are inconvenienced in that many roads are blocked, stores closed, etc.  To some degree, our immediate area is an island.
What is now being called the "Great Flood of 2016" began as rainfall on about August 11 and the rains continued for four days (more or less, depending on location). The rainfall is usually summarized as two feet of rain in 48 hours.
Here in Ascension Parish (south of Baton Rouge), there are about 15,000 homes flooded with some 5,000 people in shelters. Some homes had only a few inches of water but many had several feet of water and some were submerged to the roof line.  Many people were evacuated – typically by the "Cajun Navy" (volunteers in their fishing boats).  Ascension Parish is one of the 30 parishes expected to be declared disaster areas.
Even the governor, John Bel Edwards, and his family were evacuated from the governor's mansion in Baton Rouge.
Many of the major rivers in the area are at record levels and exceed the previous records of 1983.
Interstate highway I-10 (towards New Orleans) is flooded in enough places that it is essentially not useable. Interstate I-12 is flooded for many miles, especially around the towns of Denham Springs and Walker.
Livingston Parish was among the hardest hit. The estimate is that three-fourths of the houses there were destroyed – among them some of our good friends.
What a mess!