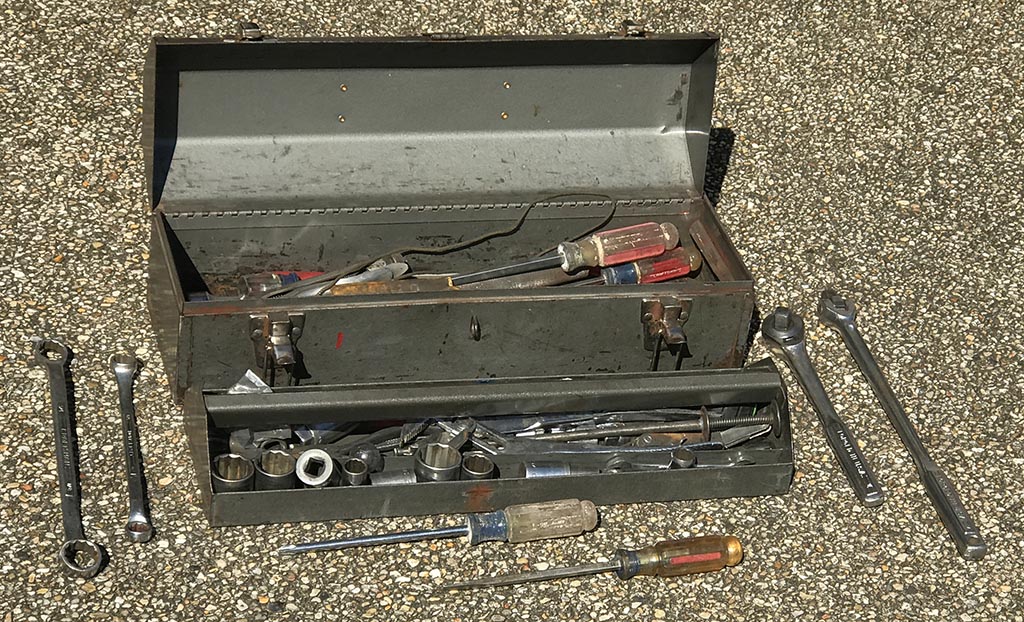 When I was a Junior in high school, my parents gave me a set of Craftsman tools. I still have them; in fact, I still have all of them.  One day my dad put my young son up to asking me how many of those tools I had lost.  I replied, "Well, none" and my dad just laughed – says something or other about me, I suppose.  Until recently, I'd never lost a pocketknife either but that's another story.
The story behind my Craftsman tools is that we had an old Chevy, my dad's "work car" that needed an engine overhaul. When my dad was not using the car, I considered to be my car.  Of course, my sister considered it her car but, again, another story.
With the new tools, my dad's guidance and funding, my friend David Ayers and I went to work on the old Chevy. We didn't have a garage so the overhaul was done in the front yard.  We didn't have a means for removing the engine so we removed the hood and left the engine in place.  Our primary objective was to replace the piston rings and re-seat the valves.  Soon the engine was completely disassembled – and that's when the weather turned cold and the snow began to fall.
South Mississippi does not get much snow but David and I had the bad luck to schedule an outdoor overhaul during a record snowfall.   The snowfall was 5 to 12 inches in South Mississippi and temperatures were in the low 20s.
My dad needed the car to return to work but, more importantly, David and I had arranged for a "double date". We needed that car – and soon.  My mother still laughs about the memory of David and I working in the snow for a while then coming into the house, standing over the floor furnace to warm up, drinking hot chocolate and then returning to the job.   We did manage to get the car working in time for my dad to use it but without a car and with heavy snow on the ground the dates were cancelled.
That set of Craftsman tools is a box full of memories.